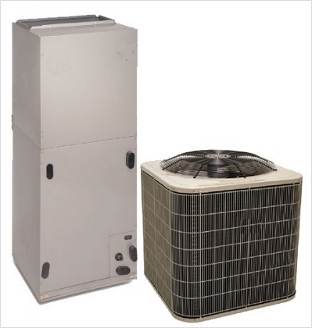 An Air Source Heat Pump coupled with a propane or natural gas furnace may be a smart and efficient solution for your heating and cooling needs. A Heat Pump looks just like a central air conditioning unit. To cool your home, a heat pump transfers heat from inside the house and sends it outside. When the season changes, a heat pump warms your home by simply reversing the process. Heat is extracted from air outside your home and moved inside, even during cold winter weather. A heat pump provides year around energy efficient comfort for your home.
A heat pump is very energy efficient in weather conditions from 30 degrees and up, but becomes less efficient during extreme cold. That is why back up heat is important for those few days of the year where temperatures drop below 30 degrees. Using a propane or natural gas furnace for these conditions can help keep your house warm during those extremely cold days. An air source heat pump using a backup gas furnace is referred to as a dual fuel system.
Why does a dual fuel system make so much sense? A dual fuel system utilizes the strengths of electricity and propane. Your heat pump conserves gas while operating as the primary source for heating and cooling. By switching to gas heat during extremely cold temperatures, you use the strengths of propane or natural gas heat when it is most needed.
During extreme winter weather, normal heat pumps generally use an electric auxiliary furnace to keep you comfortable, which uses more electricity. While this is a reliable system, it can be made better by using a gas furnace to supply the auxiliary heat in temperatures below 30 degrees. This combination keeps you comfortable and can save money by using the strengths of both electric and gas systems. If you are currently using gas for your primary heating needs, a dual fuel system may be a good fit for you, because you would cut your propane or natural gas consumption dramatically by using a heat pump for your primary heating and cooling.
In addition, your heating and air conditioning dealer can install a digital thermostat which will disengage your heat pump when the temperature outside dips below 30 degrees, making your system operate virtually hands free.
Replacing your old furnace with an energy-efficient dual fuel system may qualify you for a rebate from your Cooperative, too.
There is an excellent visual presentation called "How Heat Pumps Work" which you can view on the HowStuffWorks.com web site.
For more information on dual fuel heating and air conditioning systems, click the Heat Pump brochure link below or call Howell-Oregon Electric's Member Services department at 417-256-2131 or toll free 1-888-HOE-POWER.