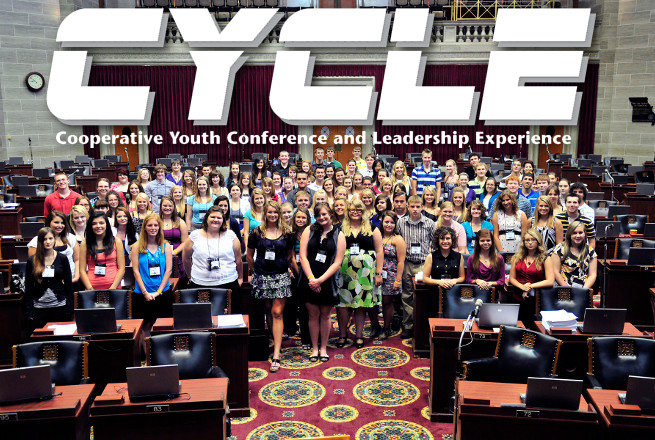 The Cooperative Youth Conference and Leadership Experience (CYCLE) is a statewide effort by the Association of Missouri Electric Cooperatives designed to bring together some of the brightest young leaders from across the state to learn about the Electric Utility Industry, the Missouri Electric Cooperatives and Missouri State Government. CYCLE is designed for high school Juniors. The Association of Missouri Electric Cooperatives has received an award from the National Rural Electric Cooperative Association recognizing the excellence of the program.
Howell-Oregon Electric Cooperative selects two area students to attend CYCLE each year, with lodging, meals and transportation provided by HOEC.
The 2022 CYCLE conference will take place July 13th – 15th, 2022 at the Double Tree Hotel and Conference Center in Jefferson City.
 
Eligibility requirements
All area High School Juniors are eligible to apply for this opportunity (except for children of HOEC employees, who are ineligible).

The Application Process
To apply to become a CYCLE delegate, students who are currently juniors are required to complete an application and answer a few questions about themselves. An official application can be acquired here on the cooperative website, below. The application can be printed, filled out and mailed or emailed to the cooperative. Two students will be selected by an independent group of judges to attend CYCLE. The deadline to enter is February 22nd, 2022.
Applications may be mailed to Howell-Oregon Electric Cooperative, Inc., to the attention of Dakota Bates, Member Communications Specialist, P.O. Box 649, West Plains, MO, 65775. Emails can be sent to dbates@hoecoop.org.
For more information on CYCLE, contact Dakota Bates in the HOEC Member Services Department between 8:00 am and 4:30 pm Monday through Friday at 417-256-2131 or toll free 1-888-HOE-POWER.